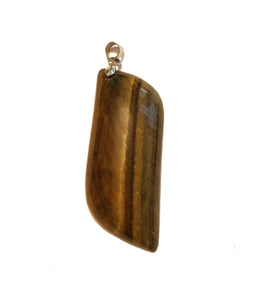 Hawk's Eye or Blue Tiger's Eye puffy wave pendant measures 2.43 inches long by 0.93 inch wide.
Blue Tigers Eye meaning:
Blue Tigers Eye or Hawks Eyes Stone resonates with the planet Mars and the sign of Aries. 
Great stone for empowering the masculine in both men and women. 
Blue Tigers Eye encourages ambition, leadership and zest in new enterprises.  Helps passive individuals know what they want and make decisions that help them move forward.
The gold tone, red tones and blue tones of Blue Tigers Eye combine to create a visionary with the ability to translate his or her dreams into tangible reality and/or products.  Blue Tigers Eye is the perfect gift for a motivational and inspiration speaker and/or leader who possesses a breadth of kindness and generosity.
If you want to marry, wear this pendant to attract an optimistic, loving, educated, healthy and wealthy partner.