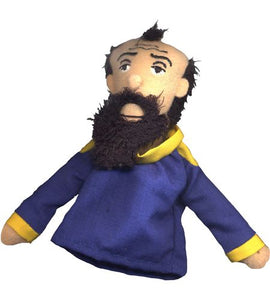 Gustav Klimt magnetic finger puppet about 4 inches tall.  Great hostess gift and a sure hit as a fun birthday present that is also a conversation-starter!  
His paintings may be too expensive to own (unless you loot them), but this Klimt finger puppet is wonderfully affordable. Have him paint mini-masterpieces from the tip of your finger!  On your finger, he's a puppet; on your fridge, he's a magnet; as an artist, he's all about the eroticism!
UPG finger puppet or philosopher finger puppet.
Product code 138.