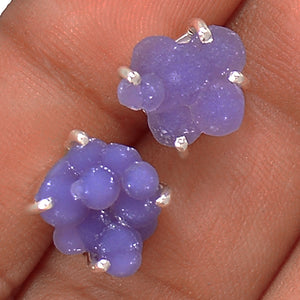 Lovely purple Grape Chalcedony from the Mamuju area of Sulawesi Barat Province of Indonesia.  Two botryoidal clusters of tiny purple grapes that are also known as Manakarra Stone or Grape Agate.  
Purple Grape Chalcedony meaning:
Purple Grape Chalcedony is comprised of little botryoidal (round crystal formations) chalcedony that all formed at the same time. 
Purple Grape Chalcedony properties:
This formation of chalcedony is about a carefully planned course of action to initiate or make something with an understanding that action happens most fluidly when everything that is needed for a successful launch has come together. 
It instills patience and the wise handling of money.  Good stone to wear when drawing up a budget for a project.  Grape Chalcedony is about forming long-term relationships and taking the time to cultivate trust and mutually, physically-satisfying physical intimacy.  Purple Grape Chalcedony insures longevity according to the intention of the wearer, be it length of life, relationship, corporation, associations or investments.