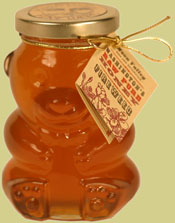 Gourmet Raw Blackberry Honey in Adorable Glass Bear
This is really the nectar of the gods!  It may very well be the most delicious honey I have ever tasted.   My daughters love tea time and this is a must-have for the perfect cup of tea.  It's that good!  The jar is strong enough to use afterward for storage.  Cute bear and raw honey in glass jars retains more of its healing properties.
Raw Honey Benefits
Here is a list of the top six benefits of eating raw honey versus cooked honey.
https://www.healthline.com/health/food-nutrition/top-raw-honey-benefits
Available in two flavors as the seasons permit:
Wild Blackberry honey is light amber in color with a mild, fruity flavor and aroma. A northwest tradition!

Weighs 13.4 ounces.  Fluid contents measures 9 ounces.