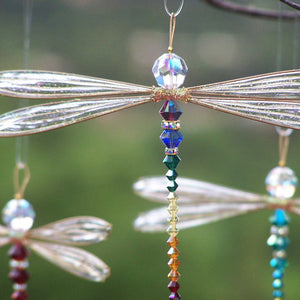 Golden-winged Dragonfly Suncatcher Mobile with rainbow theme Swarovski crystals in medium size.
Gold-toned, not actually gold.
Hang one on your rear view mirror, in your garden, your home or office, use to accent a mirror, or in a spot that needs a little magic! 
Each wing is handmade.  The dragonfly's body is made using Swarovski crystals.  
The wing span is 5-1/2 inches wide.