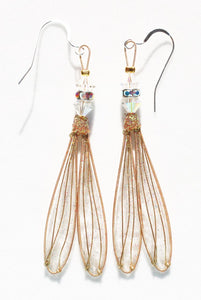 My daughter, Shanti, designed these and Windy made them.  They turned out so beautifully.  
Hand-made, delicate golden-toned wings that look like spun-gold dangling suspended beneath two Swarovski crystals and spacer bead.  Ear wires are stainless, but you can swap them out easily with yoru own gold ear wires.
Can't get these fabulous, sparkly dangle earrings anywhere else.