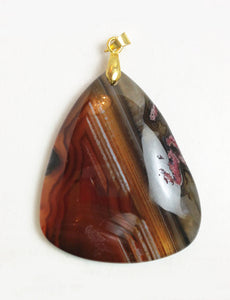 Golden Brown Lace Agate shield-shaped pendant measures 2-1/3 inches long by 1-1/2 inches wide by 1/4 inch thick.  14 karat, gold-plated brass bail.
Brown Lace Agate meaning: 
A lot of crystals fall into the two categories of agate and jasper.  Agate is at least a little bit translucent and jasper is not.  Hold the crystal up to the light.  Does light come through it at all?  Then it is an agate.  Both agates and jaspers contain quartz, but in agates it is teeny tiny grained or microgranular quartz.  Agate also contains chalcedony that formed as layers or bands.  Sometimes the agate used to cut the crystal had a band so vast that the cut piece is just one color.  Most agates are the results of volcanic rocks.
Around 400 BC, Theophrastus, a Greek philosopher and naturalist, found this crystal on the shore of the Achates River on the Italian island of Sicily and named it Achates Stone which became Agate Stone which became Agate.   He wasn't the first to collect Agate, but as far as is known, he was the first to name it.  
The nature of Agate is little pits and imperfections.
Brown Lace Agate metaphysical properties:
Lace Agate stone is magnetic.  It has a lot of fire energy to it.  Wear brown lace agate to attract support and alliance with the opposite sex ... or marriage.  
Even though completion is generally associated with lace agate, Brown Lace Agate is the exception.  It brings about completion, resolution and harvest.  Family matters conclude peacefully.  Business closes out for the season or the year with a tidy profit.  And this crystal attracts help from authorities, government institutions, and familial elders.
It also has the more typical properties of a fiery stone in that it enhances creativity, romance, abundance, generosity, leadership and vitality.