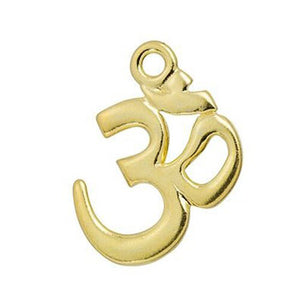 Gold-plated pewter Om symbol charm or pendant.  It is also known as an Aum symbol.
This Om symbol charm is made from high-quality lead-free pewter. 
Om symbol charm measures 18mm by 22.5mm long.  2mm hole.
Om meaning:
The Om symbol is a spiritual symbol in Hinduism.  It is also a syllable and as a syllable is called a pravana.  Om has a syllable dates back to the Upanishads, which is a set of mystical books about the Vedanta philosophy.  Om is considered a sacred sound and is used a tool for meditation by a long expression of its sound: ooooohhhhhhhmmm.  It is a mantra in the religions of Hinduism, Buddhism and Jainism.

Om is the first word of the mantra Om Mani Padmi Hum and scholars interpret this to be the totality of sound, existence and consciousness.