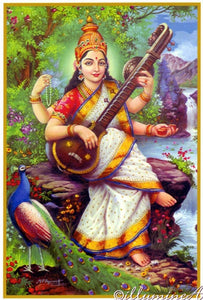 Saraswati is the goddess and personification of creativity, music, inspiration and language and is the Mother of the entire Creation because she is the consort of Brahma, the creator.  Her name means the flowing one.  In this art print, she is shown seated with four arms and a peacock.
Four-color-process print of an original illustration by Tanya Sydney printed on high-quality photo paper.  This art print measures 8.5 inches wide by 11 inches high.
Ships flat with cardboard in plastic sleeve.