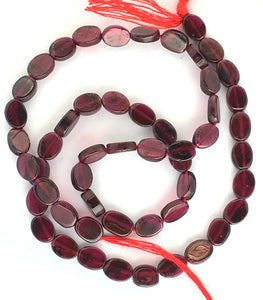 52 natural Garnet beads for jewelry making.  These untreated real garnet beads are flat ovals and measure 5mm by 7mm.  The strand is 14-1/4 inches long.
Garnet beads meaning:
The word garnet comes from granatum, which is Latin for pomegranate.  
Garnet metaphysical properties:
Garnets are all about getting comfortable with fame, enjoying life to the fullest, and being honored by your peers.  Garnet is a great gem for those in the entertainment industry.  Garnet helps introverts feel more comfortable in public.  
Garnet healing properties:
Physiologically, Garnet strengthens your thyroid, heart, liver and kidneys.  Helps alleviate sexual issues.
Product code 14.