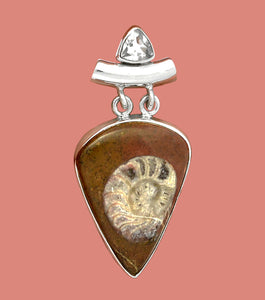 Fossilized Ammonite pendant with a triangular natural faceted citrine.  Petal shaped pendant measures 0.85 inch wide by 1.83 inches long, including bail.
Fossilized Ammonite meaning: 

The shell of the ammonite was originally composed of aragonite which becomes unstable under high temperature and pressure. When it is unstable, it reverts to calcite. The process occurs over tens of millions of years. 

Similar to the shell of abalone, the ammonite shell's inner surface had layers of mother of pearl. This is actually the layers of aragonite sandwiched in between proteins. As the shell turns into a fossil, the mother of pearl layer might also transform into ammonite, which is akin to a layer of opal. Who can resist the sacred geometry of an ammonite?
Citrine meaning:
There is a lot of Citrine stone in France.  The name citrine is derivation of a French word, citron, which means lemon.  Citrine gemstone is named after the fruit lemon because of the color of natural citrine.
Citrine metaphysical properties:
Citrine stone stimulates or activates the mental body and intellectual powers.  Citrine crystal enables the wearer to formulate thought forms with greater clarity.  
Citrine healing properties:
Untreated Citrine has an overall tonifying effect.  Wear citrine if you need to safely detox. 
Natural Citrine stone benefits
Unheated Citrine - citrine that has not been treated - also tends to amplify cell regeneration - a must after surgery or a burn. 
Natural Citrine is a very desirable psychological tool as it tends to turn off self-destructive inclinations.  So many Citrine gemstone benefits.