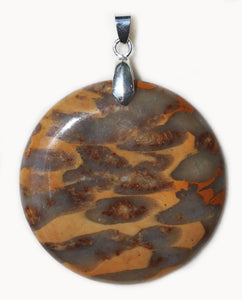 Fossilized Crinoid pendant that measures 1-7/8 inches long.
Meaning and Properties:
Sometimes Fossilized Crinoid looks like animal skin instead of flowers ... as though the "print" has been stretched.  This round pendant measures just under 2" and is rounded on the top and flat on the bottom.  It is suspended by a silver bail.  Great everyday crystal to wear.
Fossilized Crinoid  promotes qualities of ambition, leadership, vitality and good judgment.  Turns you into a person of positive thought and action, ready to take the helm and lead with the perfect balance of heart and head.  Great for courage and passion as well.