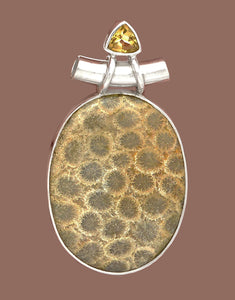 2 inch long Fossilized Coral pendant adorned with a triangular-shaped faceted Citrine.
Fossilized Coral properties:
Fossilized Coral is a money stone.  Great for attracting money, beautiful surroundings and luxury through ideas or mental activity rather than hard labor.  Helps get your innovative ideas into the marketplace.  Financial goals are achieved.  Also helps nerdy-types feel more confident when pitching projects.  
Citrine has an overall tonifying effect.  Wear it if you need to safely detox.  Also tends to amplify cell regeneration - a must after surgery or a burn.  Very desirable as a psychological tool as it tends to turn off self-destructive inclinations.