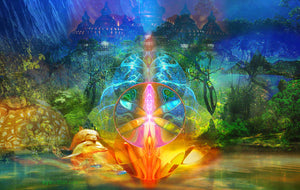 Forest Gate 11 inches by 14 inches photographic print of iriginal art by Jean-Luc Bozzoli.
Jean-Luc Bozzoli, born in France, living mostly in Hawaii, is an intriguing visionary in that he is artistically exploring realms where no one has gone before.

In his own words:
"The Dreamtime that I experience becomes like a gateway, opening to a world of parallel dimensions.  Venturing into these realms with excitement, I communicate information beyond mere rational words, touching the parts of our mind that knows the profound simplicity of Truth and Beauty, that I believe holds the consciousness that links us all together.  Our hearts can open to the realization of who we are, where we have been and where we are going.
"Our inner and outer worlds are revealed as profoundly beautiful forms, subtle shapes and organic geometries.  These are in constant motion, expanding patterns of sound and color."
 Product code 129.