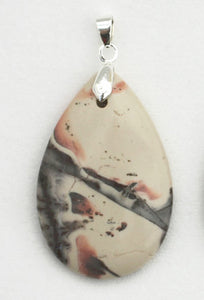 Exotica Jasper is a type of Porcelain Jasper pendant also known as Exotic Porcelain Jasper or Sci Fi Jasper.  Pendant measures 1.22 inches wide by 2.25 inches long.
Exotica Porcelain Jasper properties:
Exotica Jasper opens one up to greater wisdom about how to life in harmony within the physical plane: the body, money, and the systems of the world.  
It attracts a steady flow of energy and therefore is an excellent crystal for stamina, endurance and patience.  The strength that it engenders is self-confidence and courage.
It vibrates with the first ten degrees, the first decan, of the astrological sign of Taurus making it an excellent stone for those born during the first ten days of the Sun in Taurus or when the Moon, Venus or Saturn are in the first ten degrees of Taurus.