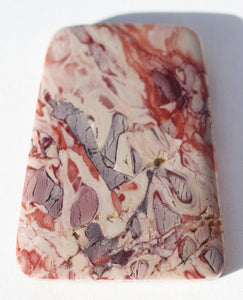 Red Cloud Stone Jasper properties:
Red Cloud Stone Jasper bestow lots of charm and grace upon it bearer.  Life just goes more smoothly and money tends to fall into your lap.  
This gorgeous focal bead measures just under 2 inches long and 1-1/2 inches wide by 1/4 inch thick.  It has been drilled from side-to-side 1/8 inch down from the top.
Great crystal for those Taurus individuals born during the first ten days of May.