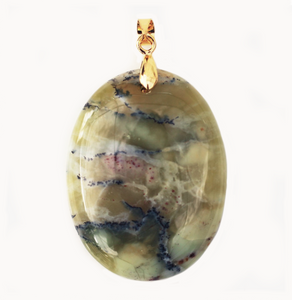 African Green Opal pendant in oval shape measures 1.82 inches long from the top of the bail by 1 inch wide.  The bail is 14k gold plated silver.
African Green Opal meaning:
African Green Opal is actually an agate, but it looks like an opal and muscle-tests (kinesiology) as an opal does.  It is also known as Green Opal Stone.
African Green Opal metaphysical properties:
Metaphysically, African Green Opal emanates an energy that gets things moving forward, advancing and unfolding.  African Green Opal is excellent for both business and personal life situations where progress has stopped and you want to move things forward.  
African Green Opal is also great for attracting more opportunities for travel, especially by air.
This crystal naturally resonates with practical, seemingly conservative, systematic individuals who are interested in the occult or simply love a good mystery.  Seems to attract very intelligent, somewhat introverted, people who quietly change the world, one step at a time.
African Green Opal's energy is a combination of Aries and Sagittarius, so it is positive, orderly, determined, likes to be first, funny, articulate, intellectual, popular, practical, religious or philosophical, honest, youthful, explorative, joyfully competitive, and athletic.