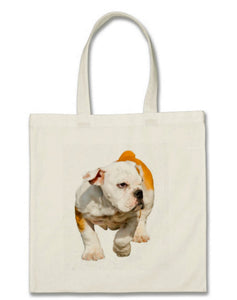 Life is A Gift Shop exclusive.
100% unbleached lightweight cotton stiff Muslin with vivid print of a strolling adorable English Bull Dog puppy.
Tote bag is approximately 15-1/4" by 15-3/4".  Perfect as a light-weight tote for a notebook, pen and tablet.  Lightweight, so good for a kid.  Works for groceries, but since it is flat, it doesn't carry a lot.