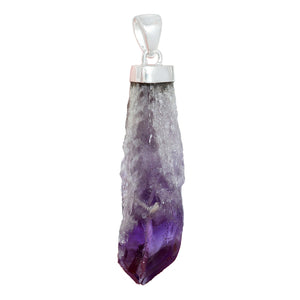 16 gram Elestial Amethyst point pendant with a sterling silver cap and bail.  
This Brazilian Amethyst Elestial point pendant measures  2.5 inches long by 0.65 inch wide at widest point. 
Elestial Amethyst meaning and properties:
Elestial Quartz or Elestials are Elestial crystals which can be identified by the multiple terminations covering the crystal.  They often have patterns etched into the surface of the crystal as well as indented formations. These are thought to connect to the Akashic Records, a compendium of all human events from the past, present and future.  
Elestial Quartz is also known as Crocodile Quartz, Jacare Quartz, Fenster Quartz or Skeletal Quartz. 
Elestial amethyst generates incredible balance within the body and the mind as the up-and-down energies bring all of the polarities of the body into perfect co-operation. 
Enables quick thinking and stimulates greater curiosity. 
Amethyst improves sleep more than any other stone; just hold the pendulum before turning out the light to sleep.  If you want to wear this on a chain that you already have, just let us know and we will separate the existing chain from the pendant portion (and send you the chain we disconnect along with the pendant).
Amethyst corresponds to Neptune and the sign Pisces, so it makes an excellent pendulum since both rule the collective unconscious and psychic abilities.  
Amethyst is especially suited to making dreams come true, quelling the desire of alcohol, attracting protection, and releasing past life frequency of addiction and narcissism within you so that you will no longer attract it to you.