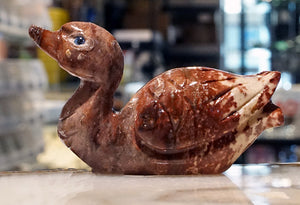 Duck soapstone carving.  Each one is unique.  The photo is a sample of what we have.  The inventory constantly changing.
Boost your vibration every time you handle it.  Soapstone fortifies the heart and thymus.
Soapstone is also known as steatite.
This duck was hand-carved, and each one is unique, but approximately measure 2.95 inches long by 2 inches high by 1.35 inch wide.  Weighs 3.1 ounces.
Great addition to a collection of carved soapstone animals.