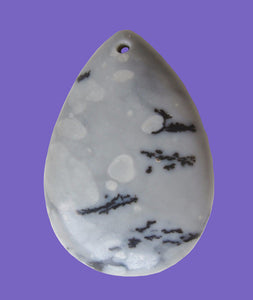 Chohua Jasper aka Chinese Painting Jasper pear-shaped focal bead measures 1.86 inches long by 1.29 inches wide.
Chohua Jasper metaphysical properties:
Chohua Jasper is a metaphysical tool in that it instills a natural sort of discipline for meditation, yoga or visualization practices. It helps you detach from the drama surrounding you so you can get centered and focused on what's important to you - what you want to manifest. It is incredibly helpful if you are suddenly beset with disappointment.
It has a silky-smooth polish. 
Chohua Jasper healing properties:
Stimulates the limbic system in a way that you can turn your visions into reality. This stone is all about good decisions, leadership, master of fate, inspired, generous, success and fortune.
Chohua Jasper meaning"
Authentic Chohua Jasper from the Lijing River mine in China. Also known as Chinese Painting Stone.  The stone has not been painted.  It's a sort of petrified mud stone and the spots and marks are things that were present in the mud when it petrified.