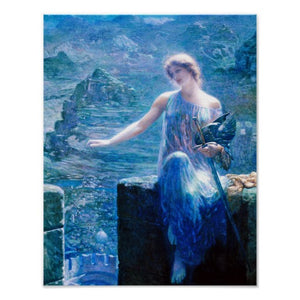 Licensed reproduction of the English painter, Edward Robert Hughes' painting, Valkyrie's Vigil, beautifully and vividly printed with a matte finish on 11 inches by 14 inches stock.
In Norse mythology, a valkyrie is a woman who has the power to decide who will live or die on the battlefield.  She takes the spirits of the warriors she selected to die to Odin's Valhalla, where the warrior spirits honorably participate in events.  She serves them mead as part of their preparation.  
In some of the Nordic myths, a valkyrie is the heroine or love interest in the myth and she might possess a pet raven, swan or horse.  Sometimes, valkyries are princesses.
Ships flat, ready for framing.
Made in the U.S.A.