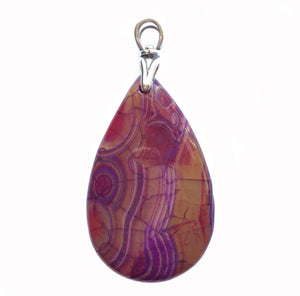 Very beautiful stone.  Pear-shaped pendant measures 2.54 inches long by 1.19 inches wide by 0.28 inch thick.  Highly-polished, glassy finish.  There is a tiny crevice along the curve on the upper right side of the stone that is a natural part of the stone that has been polished smooth.  
The oxidized sterling silver swivel bail is a reproduction an art deco torch design.
Dragon Veins Agate meaning:
It is beneficial for anyone wanting to enhance their magnetic attraction and abilities of persuasion to attract the happiest relationships, best resources, and magical circumstances for the most optimal manifestations.