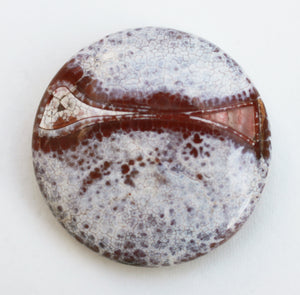 Dragon Veins Agate meaning:
Dragon Veins Agate is found in northern Mexico and the southwest United States, especially Arizona.  It is between 24 to 36 million years old having formed during the tertiary period of volcanic activity.  Dragon Veins Agate formed when silica and iron oxide-rich hot water repeatedly filled the cracks and bubbles in the rocks creating the layers the produce the banding patterns and colors.
This crystal is excellent for Aries people born from March 31st through April 10th.
Dragon Veins Agate properties:
It is beneficial for anyone wanting to enhance their magnetic attraction and abilities of persuasion to attract the happiest relationships, best resources, and magical circumstances for the most optimal manifestations.  Great mineral for directing fire energy such as people with a lot of Aries, Leo or Sagittarius in their chart.
This Dragon Veins Agate puffy round bead measures 1-3/4 inches in diameter and 1/2 inch thick.  It is drilled through the middle from end-to-end.