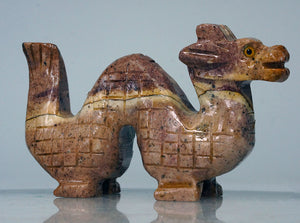 Carved stone dragon that can also be a feng shui cure.  Subtle hues as it is a soapstone carving.  Seems like a Chinese dragon figurine since it has no wings.  Each one is unique.  The photo is a sample of what we have.  Inventory constantly changing.
Boost your vibration every time you handle it.  Soapstone fortifies the heart and thymus.
Soapstone is also known as steatite.
This little dragon was hand-carved, and each one is unique, but approximately measure 3 inches long by 2 inches high by 1 inch wide.  Weighs 4 ounces.
Great addition to a collection of carved soapstone animals or your stone dragon statues.
Feng Shui Dragon placement:
A stone dragon figurine is a quick feng shui cure for rooms that need more yang or male energy.  It symbolizes world travel, abundance, the power to destroy what is not built upon truth, and the presence that opens gates and doors to new opportunities.  Most rooms benefit from a dragon, especially in the money corner.  Do NOT place a dragon in the bathroom, storage, closet or garage.  Best to limit your home to just five dragons.  Best to place your dragon at eye level so it doesn't control your house.
If you want to attract a man into your house and you are thinking to put a dragon in your bedroom for love, then you should also get a phoenix statue that is around the same size to keep energies in balance.