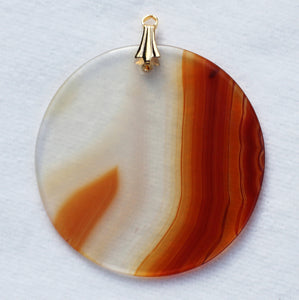 Brazilian Agate pendant with wafer thin crystal disc with a 14k gold-plated brass bail.
Brazilian Agate meaning:
Brazilian Agate is actually Piranha Agate from the state, Pirana, in Brazil.  Brazilian Agate polished, round pendant measures just over 1-1/2 inches in diameter by 1/16 inch thick.  Wafer-thin and so, so beautiful.  14k gold-plated brass bail.  
Piranha Agate metaphysical properties:
Very healing stone for anyone who is feeling lonely or isolated, especially if their intelligence or wisdom has set them apart.  
Responds to individuals with high ideals, noble intentions, and who are pure of heart.
This is a great stone for individuals born during the sign of Libra, specifically from October 5th through October 14th.