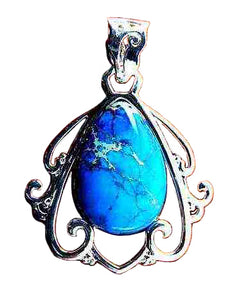 Blue Sea Sediment Jasper pendant in a baroque style pear-shaped Silver setting.  Looks like a piece of modern art.  Add a chain for a sea sediment jasper necklace.
Sea Sediment properties:
Sea Sediment is a combination of Variscite with a sprinkling of Pyrite.  This crystal is all about embracing beauty.  Seeing the beauty in one's self, in those around you, and in the world.  Enhances self-esteem.  Great crystal for artists, decorators, designers, models and therapists.