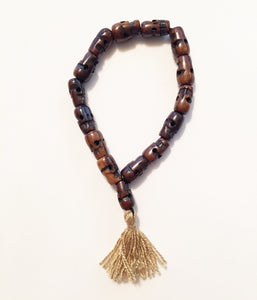 Large-sized, hand-carved yak bone skull bracelet strung on durable elastic with a cotton tassel.  Styled after skull mala prayer beads. 
As it is hand-carved and assembled, bead sizes and tassel colors may vary, but typically each bead measures 8.4 to 9mm wide by 13.8 to 14.6mm long with a 1.5mm drilled hole.
15 skull Buddhist prayer beads.  Fits a 7.5 inch wrist without stretching.  The cotton tassel is a rich beige color.
Bone mala beads meaning: The skull is used in meditation to reflect upon death and how our true nature is spirit and therefore not dependent upon our physical bodies for existence. It helps the meditator accept physical death knowing that the spirit is what is real and by embracing death we can live a more fearless life and make the most of the present.