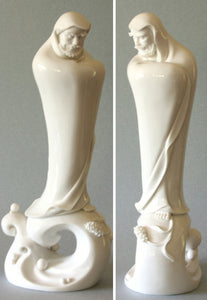 Damo Monk Buddhist figurine in blanc-de-chine porcelain.  Damo is pictured standing on a wave.
Bodhidharma, known as Damo, is believed to have been an Indian-born Buddhist monk who travelled by sea to China to teach Buddhist meditation.  
This graceful white ceramic figurine statue measures 12-1/4 inches high by 5 inches wide by 4-1/2 inches deep.
As a collectible figurine, it has its own silk-covered storage box.  A Damo white porcelain figurine is a great addition to a collection of collectable figurines.
Product code EFNB-022.