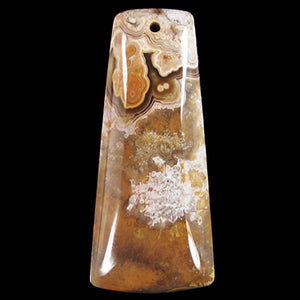 Crazy Lace Agate bead in a trapezoid shape that is slightly domed and measures 1.92 inches long.  It is drilled at the top center, front-to-back.
Crazy Lace Agate meaning and properties:
Crazy Lace Agate connects you to the vibration of harvest or gain on three planes of consciousness: spiritual, mental (causal) and emotional (astral).  It empowers through compassionate understanding and centered listening to the Higher Self through the heart. 
Great crystal for Taurus's and Leo's. 
Hold a piece of Crazy Lace Agate to your heart and then to your forehead to connect the mind to higher love consciousness.