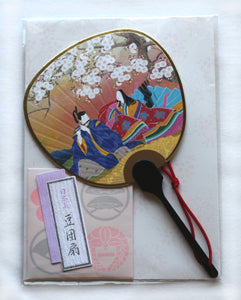 Very unique!  Modern take on a traditional Japanese subject of a gentleman playing a flute for a lady under the blossoming cherry tree.   Printed on a personal Japanese Fan that is a card with a pale pale on an even paler pink print of cherry blossom art companion envelope in a cellophane packet.
The top layer of the fan is printed in full color scored in a way that looks like rays radiating from the center.  It is mounted to a gold foil fan backing a blank white side with a black plastic handle and attached red cord.
Great addition to a collection of handmade Japanese greeting cards.