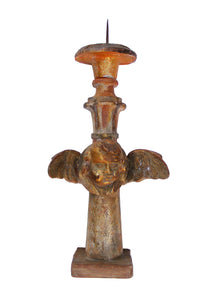 Angel Candlestick holder with a cherub with partly closed eyelids on a pillar with a stand for a 3 inch (or smaller) pillar candle.
Cherub candlestick measures 15 inches high plus 3 inches more for the candle spike at the top.  Cast in lightweight plaster.  Painted in a wash to achieve shabby chic style with touches of gold.
Made in the Philippines.