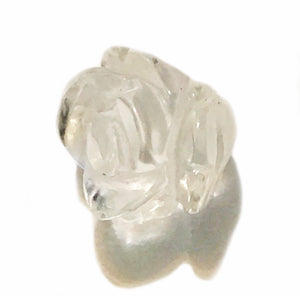 Clear Quartz bead carved and polished into a rose bead that measures 0.36 wide by .28 inch high. It is drilled horizontally, side-to-side. Magnificent bead!

Clear Quartz meaning:

Clear Quartz crystal is the Earth's gift. It is the most common crystal and one of the most useful. It lessens negativity, it raises your consciousness, and increases your psychic ability. It is an amplifier. It should be abundantly present in sacred spaces, near supplements, and during meditation and healing. Clear quartz is pure yin: it restores the High Priestess archetype. It is without ego and therefore brings ego and egos into balance.

Clear Quartz properties:

It enables pure vision. Great for issues pertaining to gastro-intestinal, circulation, lymph, nerves and pineal gland. Helps detox in a way that fat is released.

Carved flower beads such as these semi precious gemstone beads make great gifts for your jewelry making friends, especially those that make beaded bracelets with natural gemstone beads.