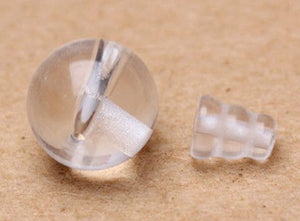 Three-holed clear quartz graduated bead with end cap.  Hand-carved, 12mm Guru bead set for you to use when making your own special Mala Prayer Beads.  20mm long as a set.
Quartz crystal is the Earth's gift.  It is the most common crystal and one of the most useful.  It lessens negativity, it raises your consciousness, and increases your psychic ability.  It is an amplifier.  It should be abundantly present in sacred spaces, near supplements, and during meditation and healing. 
Clear quartz is pure yin: it restores the High Priestess archetype.  It brings the ego into balance. 
Great for issues pertaining to gastro-intestinal, circulation, lymph, nerves and pineal gland.  Helps detox in a way that fat is released.
Directions:
1) Gather your materials. You'll need a mala necklace strung on 1mm cord, a thread burner (for nylon cord only), adhesive, collapsible needle, and your guru bead set.
2) Curl the collapsable needle. Do this by pulling the needle between your thumb and finger nail. Repeat until the needle resembles a fishing hook.
3) String the cord through your needle. Then string the needle through the side hole of the guru bead and down through the bottom hole 
4) Pull the cord through the bead. 
5) With the other end of your cord, repeat Step 3 by stringing it through the opposite side hole of the guru bead and down through the bottom.
6) Pull the cord through the bead so that both the tails are even.
7) String on the bottom of the guru bead and slide the 2 parts of the guru bead up to the necklace.
8) Secure the guru bead in place by knotting.
9) Now that the guru bead is strung, finish your necklace. A thread burner can seal the ends of nylon cord, and a dap of adhesive on the knot will keep it strong.