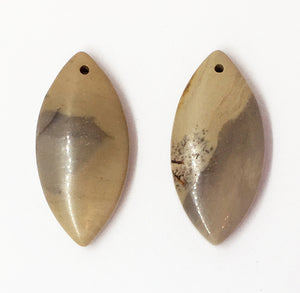 Chohua Jasper looks like the perfect integration of artistry and business: paint brush strokes in brown against a gray background.
Chohua Jasper metaphysical properties:
Stimulates the limbic system in a way that you can turn your visions into reality.  This stone is all about good decisions, leadership, master of fate, inspired, generous, success and fortune.
Chohua Jasper meaning:
Authentic Chohua Jasper from the Lijing River mine in China.
Also known as Chinese Writing Stone or Chinese Painting Stone.
Each marquise shape bead measures 1-1/4 inches wide by 2-1/5 inches long (including bail).