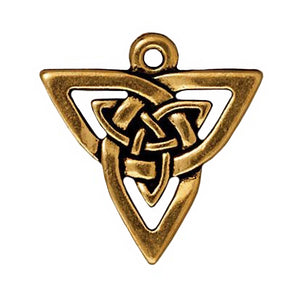 Celtic gold pendant or charm.
This antique finish gold-plated pewter triangular Celtic knot pendant measures 0.82 inch long by 0.76 inch wide.  The hole size is 1.5mm wide.  This gold Celtic pendant is perfect as a Celtic charm on a Celtic bracelet that you can wave around the pub on St. Patrick's Day.
Both sides reflect the celtic ribbon design that looks like a mandala.  It looks very rich in bracelets, necklaces and earrings. The 14 karat gold plating gives it a regal golden shine.  Perfect as an Irish pendant or on a link chain for a Celtic charm bracelet.
TierraCast charms are lead-free pewter beads and charms.  High-quality lead-free pewter charms.  Reversible.  
Made in the U.S.A.