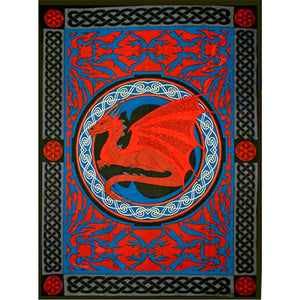 Celtic Dragon high-quality cotton tapestry 52 inches by 76 inches (twin size)
Woven from seven colors. 
Made in India.  Fair trade establishment.
A contemplative red Celtic dragon encircled in vibrant blue is featured at the center of this tapestry.  The borders are framed by interwoven black eternity knots.  Celtic dragons, like the knots woven into the flaps of their wings, symbolize eternal life. This beautiful tapestry has been meticulously hand-crafted from 100% cotton.  It can be hung on the wall, used as a tablecloth, blanket, curtain or as a focal point for meditation.