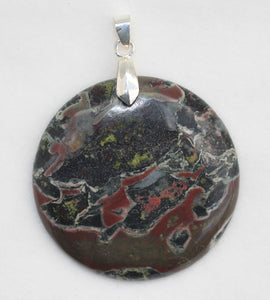 Round Camouflage Jasper Pendant
Camouflage Jasper amps up your spiritual strength.  Be sure to follow your own knowing whenever you wear it.
This crystal vibrates with the three fire signs: Aries, Leo and Sagittarius.  It's great for encouraging Aries stuff, such as fertility, leadership, and starting a new business.  Also that which is Leo, such as creativity, a new love relationship, and performing.  Sagittarian influences show up as abundance, positive influence, and incredible opportunities, especially around education, sports and travel.