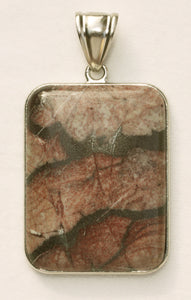 Butterfly Jasper pendant in an oblong shape framed in sterling silver measures 2.33 inches long by 1.25 inches wide by .35 inch thick.  
Butterfly Jasper metaphysical properties:
Butterfly Jasper resonates with the last ten days of the sign of Cancer, which also rules the final trimester in pregnancy.  Great stone for birthing a baby, a business, or moving out of a home that is too small into a bigger one.