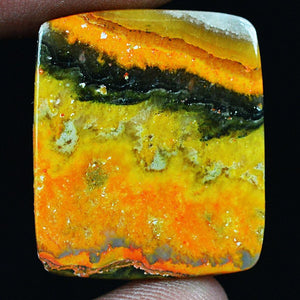 Gallery-quality, this square cushion shape Bumblebee Jasper cabochon has beautiful banding coloration.  Measures 23.6mm wide by 27.6mm long by 2.6mm thick (0.93 inch by 1 inch by 0.1 inch thick).  
Bumble Bee Jasper metaphysical properties:
Bumble Bee Jasper brings about the completion of goals.  It tends to attract more possibilities and broaden your horizons, especially in the areas of love and travel.  If you feel drawn to this crystal, it is an indication that it is time for you to allow worldly success to come to your more easily.  It also likes to lead us through many worldly experiences that enable us to know ourselves better and to more accurately align with our spirit.  
Other important Bumblebee Jasper properties:
Helps release worry and increases a sense of faith in one's self and the world.  
Bumblebee jasper healing properties:
Bumble Bee Jasper meaning:
Bumblebee Jasper is getting harder and harder to obtain.  Here's its story.  In the late 90's, a couple of geologists drove through West Java to check out active volcano area.  Others were exploring these areas to check the possibility of harnessing geothermal energy.  They hiked around calderas that we steaming and fumaroles, which were active.  They even went into the crater of Mt. Papandayan that peaks at 8,700 feet, one of the tallest volcanoes in Indonesia.  Lots of boiling volcanic pools and putrid gases.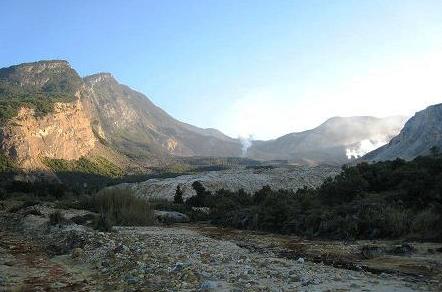 Some locals were collecting native sulfur in baskets where it had precipitated around the hot vents.  This was an amazing place to see, especially for a geologist working on volcanic-hosted, gold deposits in older volcano remnants.  And daring as well, since the mountain is prone to periodic massive violent eruptions with little notice!  An eruption in 1772 killed about 3,000 people. More recently, Mount Papandayan has erupted twice; in July 1998 and again in November 2002 (Photo #2).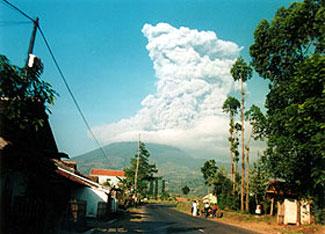 During a return trip, one of the geolotists noticed the local merchants in Jakarta were selling some polished stones with wavy orange, yellow and black bands. This was similar to the stone which locals were collecting for sulfur in Garut.  The attendant called it Batu Badar Blerang which translates to Fumarole Jasper (photo #3).

Back at the village in West Java, one of the geologists watched Indonesian craftsmen cutting and polishing cabochons from river-rolled jaspers and agates.  He asked about the "Batu Blerang."  One of the guys produced some bull's-eye and yin-yang cabochons in progress being cut from the material. They were quite attractive with the combination of high contrast black and yellow (photos #4 and 5).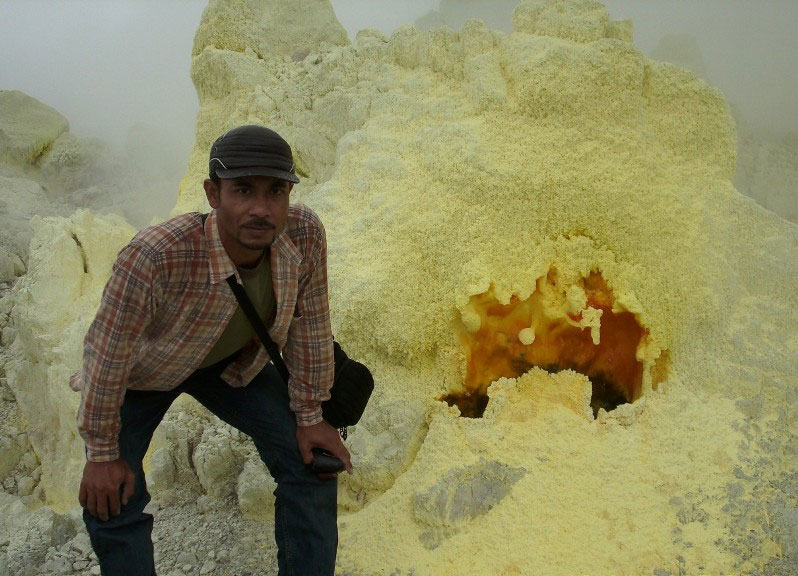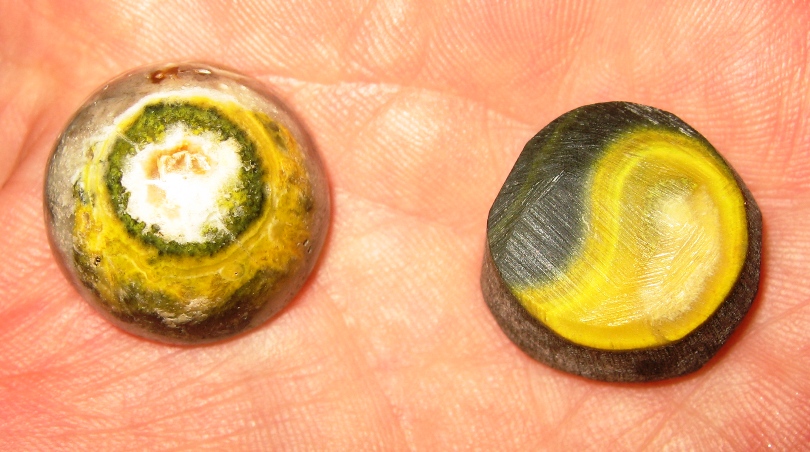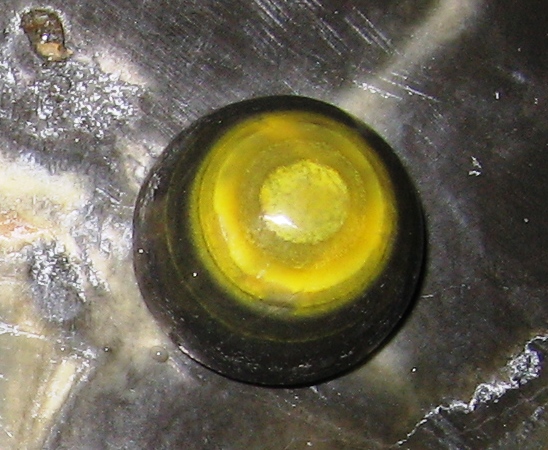 The geologist decided to call it "Bumblebee Jasper."   He bought some rough and a few cut stones to ship to the US and show some Tucson vendors (Photos #6 thru #9).