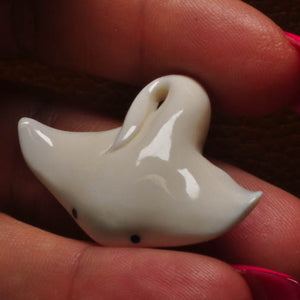 Adorable stingray bead hand-carved from buffalo bone that measures 37.3 by 25mm by 7mm thick or 1-1/2 inches by 1 inch by 1/4 inch thick.
Stingrays descended from sharks.  Their form is constructed of cartilage instead of bone.  Rays spend a great deal of time lying quietly on the ocean floor, and when they do move, they make use of the current as they undulate and "fly."  
As a spirit animal, the stingray teaches us to move through life gracefully, taking our time to know when to take action so that nature supports our efforts.