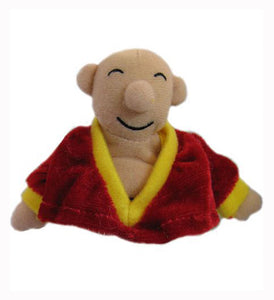 Buddha magnetic finger puppet about 2 inches tall.  Great hostess gift and a sure hit as a fun birthday present that is also a conversation-starter!
Karma comes in many forms, shapes, and sizes. But not many are smaller or cuter than our Buddha Finger Puppet. We can't help but smile every time we slip The Enlightened One on our finger, and we bet he has the same effect on you, too. The Buddha Finger Puppet wears a red robe that's just low enough so he can contemplate his navel. He's also magnetized, so you can stick him on your refrigerator as a constant reminder of how chubby you'll get if you keep raiding the fridge.
UPG finger puppet or philosophers finger puppet.