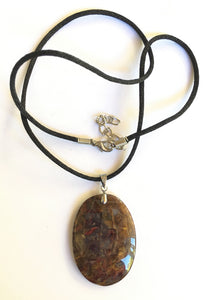 Pietersite stones in hues of autumn: russet, gold and red.  This oval Pietersite pendant is on a 17.5 inch black cord.  The stone itself measures 1.1 inches wide or 28mm by 1.56 inches long or 40mm.
Pietersite is an amazing, fantastic, magical crystal.  It is akin to Tiger's Eye, but brecciated, so that the strands of iridescence are interrupted.
Wearing it invites new beginnings.  It enables you to sense your own identity apart from your environment so that you know what you want and stay on your path.  It's also the stone to wear if you need help taking a stand for yourself or if you need to think more for yourself.  Encourages independence.  It puts you in touch with your untapped talents and powers.  You feel more confident and excited to take charge of your life.  
You become very conscious of what you want for your life and what goals to set.  You find yourself taking the first steps towards your goals immediately.  Later, when you have attained those goals, you will see how it all started around the time you started wearing your Pietersite pendant.  
This is also a great stone for anyone who performs or speaks publicly.  Great for those who are hesitant to promote themselves. Makes you persistent, confident, glib and focused.  
You find yourself becoming more self-assured about your choices and aligned with your goals.  Pietersite blends the energies of the planets Mercury and Mars, so it initiates and motivates the wearer around learning, languages, driving, writing, magic, teaching, comedy, communication, and coordination.
Pietersite strengthens your will, your intentions, your self-control and your attention span.  It promotes healthy, balanced productivity - you get things done in a way that is fun and effortless!
Pietersite has deep hues that appear dark when not brightly lit.  Our photos are brightly lit to show you the detail and coloration, but your actual pendant will appear darker indoors.