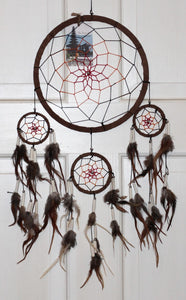 Brown leather dreamcatcher that is curved willow with beads and feathers measures 8.5 inches wide.
A dreamcatcher is a sacred Native American object that looks like a spider's web.  A loosely-woven net is attached to a willow hoop that is then hand-decorated with feathers and beads.  The circular-shape represents the scope of the sky that the Sun and Moon traverse.  Every part of the dreamcatcher has importance.  As the photo shows, this dreamcatcher's big catcher's net attaches at ten points along the hoop and the three smaller one's attach at eight points, representing the eight legs of a spider.  
This willow is covered with brown leather.  The web has a red and orange center.  The feathers attached to the hanging cords represent air or the breath of life.