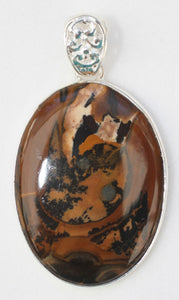 Oval Brown Canyon Jasper pendant that measures 2 inch long by 1.12 inches wide in sterling silver.  
This is one of the best stones for alignment with freedom, adventure, travel and research.  
Helps high-energy individuals monitor their impulses and impatience.  Especially helpful for feeling more compassion for others who learn or move more slowly.  
This a a stone of making great money through your intellect rather than your physical agility or endurance.