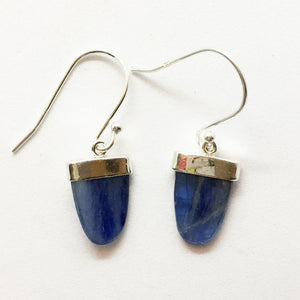 Polished Blue Kyanite earrings set in silver.
Blue Kyanite meaning: 
If Blue Kyanite were a person, she would be a lovely water sprite or a mermaid that brings your visions and dreams to life.  She would represent the signs of Cancer, Scorpio and Pisces and relay messages to you from your subconscious mind.  Her skin would be luminescent and her long hair would be braided as a representation of the subconscious, conscious and higher selves integration.  Comely and compassionate, her voice would be sweet yet powerful.  She would consider herself a muse to spiritual leaders and great sages.
Blue Kyanite Properties:
Assists the wearer with attraction, particularly in matters concerning love, partnership, and financial rewards.  Also helpful for developing a natural discipline around meditation.