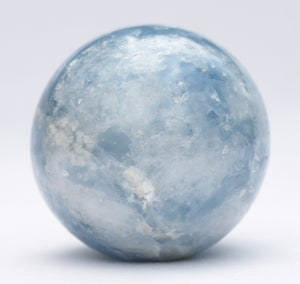 Beautiful Blue Calcite sphere from the mines in Madagascar.  This crystal sphere measures 3-1/2 inches in diameter and weighs 31 ounces.
Blue Calcite properties:
Great to hold during meditation as it strengthens your link to the astral plane so that you can receive all the good things waiting to come to you. 
Blue Calcite helps release resistance overall, but is especially supportive for your kidneys and greatly aids any detoxification efforts.  You can place it in your bath or your foot bath. 
If you have Mars or Saturn in Libra, you need this crystal.