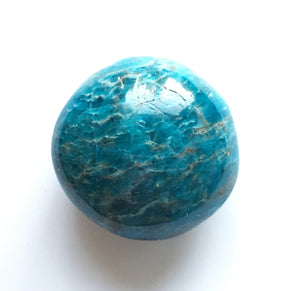 Madagascar Apatite puffy palm stone measures 1.83 inches by 1.83 inches long by 1.18 inch thick.  Weighs 3.7 ounces.
Apatite healing properties:
Wear your Apatite crystal while jogging or working out.  Put blue apatite or green apatite stone in your bath to help your muscles assimilate minerals ... it enhances the innate intelligence of your muscle cells. 
Apatite is great for anyone wanting greater muscle strength, bone density or rehabilitation.  
Apatite metaphysical properties:  
Great for introverts who want to feel more confident in their communications who need to bring their ideas to the marketplace.  Engenders confidence and poise and a deeper appreciation of beauty physically, mentally, emotionally and spiritually.