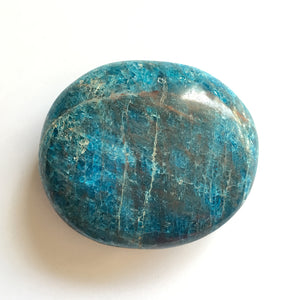 Madagascar Apatite puffy palm stone measures 2 inches wide by 2.4 inches long by 1 inch thick.  Weighs 4.8 ounces.
Blue Apatite meaning:
Apatite is one of the best crystal palm stones to hold it before jogging or working out.  Put it in your bath to help your muscles assimilate minerals.
Apatite properties:
Apatite enhances the innate intelligence of your muscle cells. 
Apatite is great for anyone wanting greater muscle strength, bone density or rehabilitation.