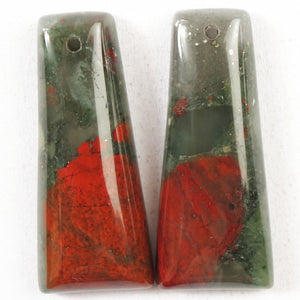 Trapezoid Bloodstone beads that are ideal for earrings: specifically beautiful bloodstone earrings!  Gently rounded, like domes of genuine bloodstone.  Each natural bloodstone bead measures 1.37 inches long by .55 inch wide by .25 inch thick.
Bloodstone meaning:
Bloodstone is sometimes called bloodstone jasper or bloodstone stone.  
Bloodstone healing properties:
Bloodstone transforms fear into confidence.  The kind of fear that shows up as small-mindedness around money, miserliness or greed.  It neutralizes that energy and transforms it and you into a confident, savvy money-magnet.  Instead of trying to cope with limited resources,  Bloodstone opens you up to the unlimited potential of your Higher Self, facilitating ideas into your everyday consciousness that attract and generate income in ways that you never considered.
In Gem Elixirs and Vibrational Healing, Volume 1, it says to put bloodstone inside a pyramid structure when Mars is on the horizon.